Profile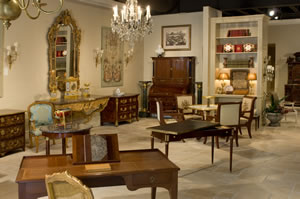 Mary Helen McCoy has been in the antiques trade for over 33 years Her firm is considered one of the nation's premier sources for fine and unusual period 17th -19th century French furniture and decorative arts with an emphasis on 18th century French furniture of the provinces.
A native of Birmingham, Alabama, McCoy grew up in an environment rich in culture. Both her mother and grandmother exposed her to European and southern traditions at an early age. Her career in antiques began at Wardemond Gallery in Birmingham as the buyer and manager. It was in that role that she traveled extensively to England and France as well as the sales rooms of auctions in New York searching for beautiful furniture and accessories for the gallery. During her last trip to France she made a decision to focus on the French decorative arts.
McCoy established her own business in 1990. She began amassing an extensive library as part of her unceasing pursuit of knowledge. More importantly she took on high end design jobs which included working with architects and landscape designers procuring a variety of architectural elements and garden ornaments along with period furnishings to go into these homes. From 1990 to 1997 she bought and sold privately. In 1998 she opened her first gallery in Mountain Brook, Alabama which is a suburb of Birmingham. McCoy was admired for her keen eye and professionalism in the French marketplace. As a result several dealers in France sponsored her membership into the prestigious Syndicat National des Antiquaires ( SNA ) in 2000 which gained her membership into the Confederation Internationale des Negociants en Oeuvres d'Art ( CINOA) In 2002 she was admitted into The Art and Antique Dealers League of America ( AADLA ) and served on the board attending meetings monthly in New York for several years. Today she serves as an emeritus member of the board. In 2008 she was invited to become a member of The National Antique and Art Dealers Association of America (NAADAA). Membership in these professional groups are reviewed to maintain the highest ethical standards in the antiques trade and represent the foremost respect a dealer can obtain.
McCoy has exhibited in prominent national and international fine arts and antiques fairs including The International Fine Art and Antique Dealers Show, The Spring Show NYC and the Connoisseurs Antiques Fair in New York City. She also exhibited in Palm Beach America's International Fine Art and Antiques Fair in West Palm Beach, Florida for several years.
The firm has been featured in many national and international publications such as Architectural Digest, Traditional Home, Le Figaro, Connaissance des Arts, The New York Times, The Palm Beach Post, Art +Auction, The Magazine Antiques, The Catalog of Antiques and Fine Art, The Antiques Trade Gazette, Maine Antique Digest, Southern Accents, Veranda, Forbes Life, Charleston Style and Design, The Birmingham News, Charleston Magazine, Memphis Magazine.
Mary Helen McCoy currently lives in Memphis, Tennessee where she sells privately to collectors and clients. Through her many contacts in the trade she is able to source and broker for clients. She continues to work in the design business serving both new and old clientele of 30 years. McCoy is always happy to lecture and share her knowledge of the French decorative arts focusing on history's influence. She is devoted to various civic, cultural and museums of both her hometown of Birmingham and Memphis, Tennessee.



Meet Mary Helen McCoy, Interviewed in Traditional Home, March 2005
Click here or on the magazine cover to read the article.
Download the 2015 exhibition catalog: Fine Selection Of European and French Faïence from the 17th & 18th Centuries
Press Releases:

June 19, 2008: Mary Helen McCoy Fine Antiques Acquires New Pieces
October 15, 2008: Tips for Buying Fine French Furniture from Mary Helen McCoy
October 15, 2008: Tips from Top Designers on How to Decorate with Antiques
October 30, 2008: Mary Helen McCoy Fine Antiques at The International Fine Art and Antique Dealers Show
December 3, 2008: Caring for Fine Antique Furniture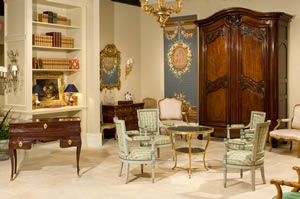 Memberships:
Syndicat National des Antiquaires
The National Antique & Art Dealers Association of America, Inc.
Confédération Internationale des Négociants en Oeuvres d'Art
Art and Antique Dealers League of America
Gallery Contact Address:
Memphis, Tennessee
USA
Contact Numbers:
Tel: 901-786-8115
E-mail: mhmcantq@aol.com
Hours:
By appointment only